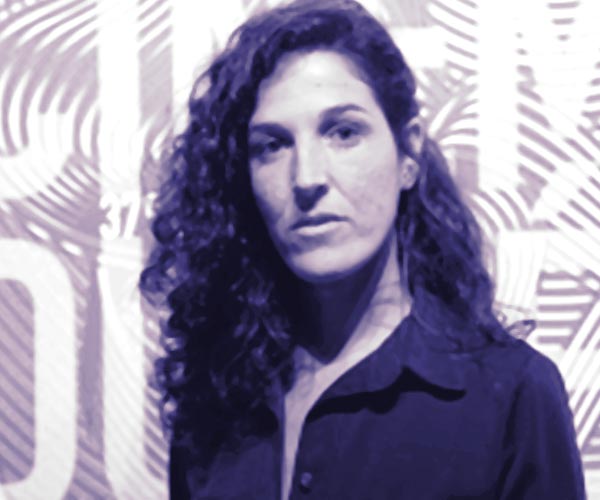 Córdoba, 1979
Pilar Monsell is a filmmaker, artist, editor, and researcher. She studied Creative Documentary Film at the Pompeu Fabra University of Barcelona (2007) and is currently based in Madrid, where she carries out artistic and audiovisual projects for both television and cinema using some registers, from film-essay to documentary through cinema experimental or memory and archive film.
Pilar Monsell's first film Distancias (Distances, 28 min) was premiered in 2008 at the 49th Festival dei Popoli in Florence, where it won the Audience Award. It then toured to numerous international festivals. In 2009, Pilar joined the Laboratory of Documentary Creation run by the Play Doc – International Documentary Festival in Tui, where she is directing a portrait that has being filmed between 2009-2013.
In 2012, she completed the short film Pan, Trabajo y Libertad (Bread, Work and Freedom, 26 min) premièred at Doc Lisboa 2012 International Film Festival and she participates also in the french collective cinema project 100jours, directing the short film + 46 (6 min). In 2013, she got Manuel Cintra Ferreira Fellow from the Doc's Kingdom International Documentary Cinema Seminar, directing the short film Vulcão (11 min).
In 2014, her first feature film África 815 premièred at Doc Lisboa with which she toured then to others festivals where she won: Distribution Award Premio Festival Márgenes 2014, Best Feature Documentary Zinegoak 2014, Nomination to ASECAN 2014 as First Film and Best Documentary Film, Panorama Award at L'Alternativa Festival de Cine Independiente de Barcelona 2015 Special Jury Mention at CEMEDOC 2015 (Mexico). She is currently in the postproduction stage of her next short film Dos sueños después and in the developing stage of her next feature film Nisaiyat.
She has a BA in Audiovisual Communication (UMA), a Diploma in Artistic Photography (San Telmo, Málaga) and a Masters in Creative Documentary (UPF, Barcelona). She works as a filmmaker and collaborates usually in the working process of several other as editor, producer and developer. In 2014, she co-founded Laboratorio Reversible (Barcelona), a collective project related to analog cinema creation and experimentation. From 2016, she works as a documentary film mentor in Madrid School of Cinema ECAM.
Filmography
Una revuelta sin imágenes – 2020
Dos sueños después – 2017
África 815 – 2014
Pan, trabajo y libertad – 2012
Distancias – 2008