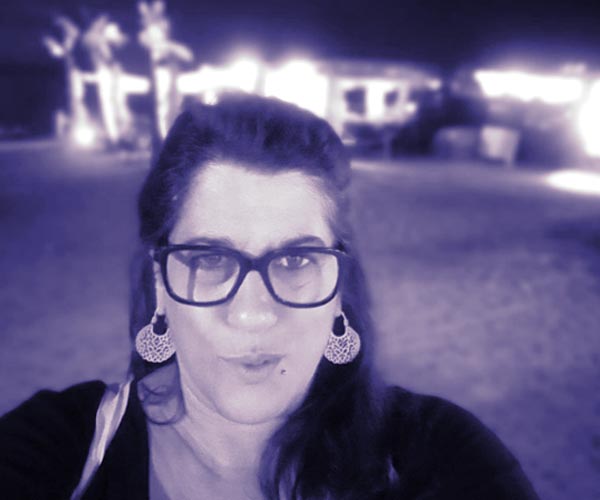 Barcelona, 1966
With an educational background in the fields of Fine Arts and Anthropology, she develops her artistic practice exploring the world of re-presentation, hybridizing the two fields.
She has been resident in different art centres such as Can Xalant, Sant Andreu Contemporani, Waaw, Villa Abdelllatif, BLITZ, or Townhouse.
She participated in numerous collective exhibitions; Post-it City, Casual Cities (CCCB), Mulier, Mulieris 7-9 (MUA), Biennial de Valls 2103 (Valls), Extralocal (AVic), What can we do? (Can Felipa), Inverted Time (Can Felipa), A Dilemma (Arts Santa Monica), Gran Angular (Fabra and Coats), Translocations (Arts Santa Monica), Puebla International Biennial of Video (Mexico), Play off (Málaga), TIVA 16 International Video Art Exhibition Of the National Museum of Taiwan (Taiwan), Women are the ones watching (Buenos Aires), Anti-Spain. ABM (Madrid), The Art of Getting Lost in the City, Gudran (Alexandria), 1st International Biennial of Lagos (Nigeria), Transformer (Malta), Salam London (London).
Her films screened in various film festivals such as Ethnocineca (Vienna), Festival of Migrant Film (Slovenia), Migrant Cinema (Barcelona), Chouftouhonna (Tunisia); Bangalore Short film Fest (India), Intermediaciones (Colombia) or the Sharjah Film Platform (United Arab Emirates).
Winner of the 2015 Ciudad de Valls Award. (Guasch-Corantny Biennial), Second prize Julio Antonio Biennial 2019 and the Girona Biennial 2019 Award.
Her work is represented in the collections of the Valls Museum, the Art Fund of the Generalitat of Catalonia, the Civit Collection, the Diputación de Tarragona, A.A.R.C. from Algeria and the Cal Cego Collection.
Filmography
Miratges – 2021
Promeses – 2021
Dystopian concrete – 2021
Els ocells cantaven malgrat feia fred – 2019
Estos lodos – 2019
In limbus – 2019
Si je te vol la mer – 2018
Everfolding – 2017
Unfolding Penelope – 2017
Ship of fools – 2016
Hook a boat – 2016
Moi, un noir, reloaded – 2015
Interferencias (series) – 2013
Hearts of rice (series) – 2011
TMB L-64 – 2009
Domingos de azul y amarillo – 2008