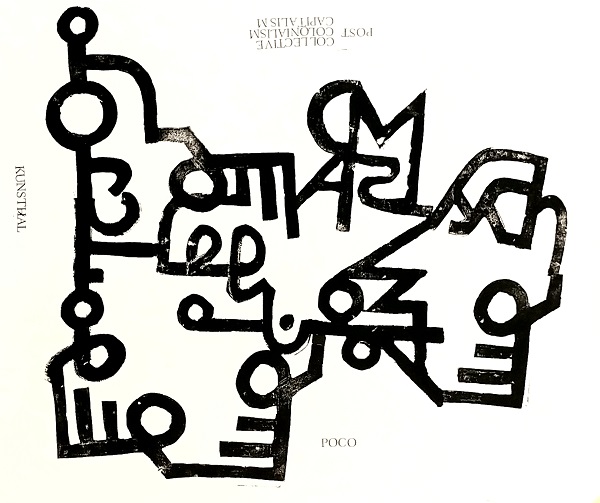 The Post Collective (2018, BE) is an autonomous platform for co-creation, co-learning and cultural activism.
It is initiated by Marcus Bergner, Sawsan Maher, Mirra Markhaeva and Elli Vassalou; artists, activists and researchers with different means and access to artistic production and education due to their legal status (refugees, asylum seekers, sans-papiers, documented citizens).
It introduces a range of artistic, cultural and employment opportunities, and provides a commoning environment for its members and their kin. Generative modes of kinship, solidarity, dialogue and storytelling form the basis of their speculative and experiential approaches to art and design. They aim to develop creative alternatives beyond the dominant systems of control and exclusion they are facing.
This means facilitating the position where they do not struggle to be assimilated but rethink and re-conceptualize critically a future together as community. The Post Collective develops relationships of co-elaboration with other artists and institutions in Belgium and from various diasporas such as the projects Metacπora and the Post (Film) Collective.
Their ongoing project Manifestations is currently expanding in collaboration with 7 artists at BNA BBOT Brussels.Their work has been presented and supported in Belgium by ARIA (Antwerp Research Institute for the Arts), Beursschouwburg, BUDA art centre, Contour Biennale 9, deSINGEL, Fondation Mycelium, the city of Gent, Jester, KASK School of Arts, KAAI studios, Kunsthal Gent, Kunstencentrum VIERNULVIER,Komplot, Visite Festival, LUCA Gent, Netwerk Aalst, PLANB, Sint Lucas School of Arts Antwerp, Academy of Antwerp, State of the Arts, SOFAM, VAF (Flemish Audiovisual Fund), WIELS.
Their work has been published internationally at Blackwood Gallery:Toronto, Versopolis: Slovenia, Roodkapje and Orgerstraat Studios: Rotterdam among others.
Their film Rerooting (2023) premiers internationally on the 9th of November at Feminist Elsewheres Festival at Cinema Arsenal Berlin.