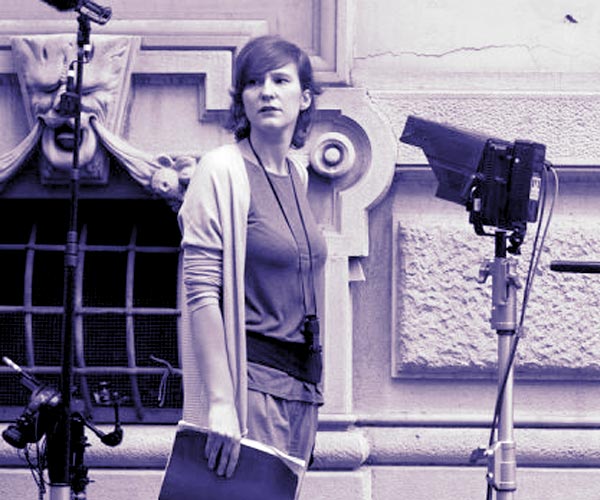 Turin, 1986.
She lives in Turin and works between Turin and Rome as director, scriptwriter and visual artist. She received her BFA in 2011 in Philosophy of Art and History from Turin University, and her MFA in 2013 in Cinema and Philosophy from UPJV, Amiens University.
She completed her formation with directors Marco Bellocchio, Daniele Segre (Fare Cinema – Bobbio), Alina Marazzi (IED – Milan), as part of the collective of public art curators a.titolo, which produced her documentaries and video installation.
Her artistic production includes video installations and documentaries. Sponde – Nel sicuro sole del nord (2015) and La fabbrica à piena. Tragicommedia in otto atti ( 2011) were presented in many international festivals, such as Torino Film Festival, Visions du Réel, Festival dei Popoli, Open Roads – Lincoln Center, ecc and awarded, among others, with the Scam Prize (Fr), the Solinas Prize (It) and the Jury Prize of Cine Verité in Iran (Ir). She is represented as author and flmmaker by the agency Sosia e Pistoia, Rome.
Her video installations exhibited at CACG – Genève, Palazzo Grassi – Venice, Rivoli Museum, Pac – Milan, Berardo Museum – Lisbon, National Museum of Cinema and MamBo – Bologna, and also in many other international galleries. She is represented by Moitre Gallery, Turin.
Her first feature flm, Le ultime cose (2016) premiered at Venice International Film Critics Week and was awarded with Silver Ribbon for Best Screenplay and fnalist for the David di Donatello and Globo d'Oro Award – Best Debut Film
She was for three years artistic director of the LGBTQI flm festival "Da Sodoma a Hollywood", now known as "Lovers", organized by the National Museum of Cinema in Turin.
She taught courses at Teatro Stabile in Turin, Scuola Civica in Milan, Head in Ginevra, Cinelabs, Aiace, IAAD and at Museum of Rivoli. This year she won the Bertolucci Prize and the American Dream Fellowship for Artist.
Filmography:
A.B.O. Transitando – 2021
Camera Chiara – 2020
Le Storie che Saremo (ep: Mondo nuovo) – 2020
Le Ultime Cose – 2016
Sponde. Nel Sicuro Sole del Nord – 2015
Il Canto delle Sirene – 2013
Ufficio Nuovi Diritti – 2013
La Fabbrica e' Piena – Tragicommedia in Otto Atti (The Factory Is Full: A Tragicomedy in eight Acts) – 2011
Sur les Traces de Lygia Clark, Souvenirs et Evocations des ses Années Parisiennes – 2011
Fières d'être Pute – 2010